This past week saw several new announcements that could redefine healthcare as we know it. Amazon Care declared that it would offer virtual primary care and home care in all 50 states starting May. Read my piece in Healthcare IT News where I describe why this is a big deal.
The Livongo team, fresh from the successful sale of their company to industry leader Teladoc in late 2020, has started a new venture named Transcarent that offers transparency and choice in healthcare services to employers. Here's the kicker – Transcarent will get paid based only on outcomes. Forbes magazine calls it "concierge medicine on steroids."
General Catalyst, the VC firm behind Livongo and Transcarent, is spreading its bets. It has teamed up with healthcare provider Jefferson Health to launch Tendo, a software company that provides a digital patient engagement platform. 
What will other digital health companies do to respond to the threat of deep-pocketed disruptors entering the market? Consolidate, of course. We saw at least one merger – Grand Rounds and Doctor on Demand – that seems to be a response to intensifying competition. Others want to just take the money and run. There is a convenient option available for them – it's called a SPAC. Casey Ross of STAT writes about the "perfect storm" for investors in SPACs in the digital health space.
Separately, a thoughtful piece in HBR by the CEO of The Commonwealth Fund points to pandemic-fueled consolidations and a deeper concern around acquisitions by health insurers that could increase prices for consumers. Coincidentally, the AHA voiced its opposition this week to the proposed $8 billion acquisition of Change Healthcare by United Health group's Optum unit citing concerns about the concentration of healthcare data with a dominant market player.
I am excited about my upcoming webinar this week with guest Sara Vaezy, Chief Digital Strategy officer of Providence Health. I will be sharing insights from our new research with CHIME on digital maturity in health systems. If you are a CHIME member you can register here. Look forward to seeing you.
In my latest podcast episode, I interview Dr. Rich Parker, Chief Medical Officer at Arcadia and Jennifer Polello, Senior Director of Quality and Population Health at Community Health Plan of Washington. Take a listen.
Have a great week. 
Paddy 
In this episode, Dr. Rich Parker and Jennifer Polello discuss their vaccination distribution program, challenges around vaccine hesitancy, and how they have overcome this. 
We thank our partners and sponsors for their support in bringing you high-quality content
This Week in Digital Health Markets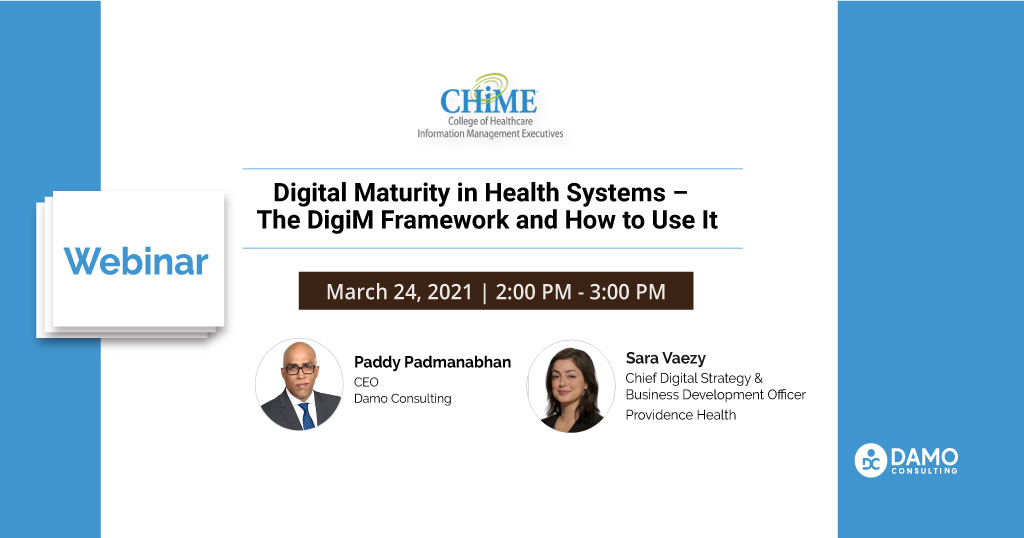 Digital Maturity in Health Systems – The DigiM Framework and How to Use it
In this webinar, Paddy Padmanabhan and Sara Vaezy, Chief Digital Strategy and Business Development Officer of Providence Health will discuss a roadmap for digital transformation leaders looking to take an objective view of their progress and prioritize their investments to meet their enterprise goals.
Event details: March 24 | 02:00 pm ET 
Register here. Upcoming event 
Damo Consulting Thought Leadership and Research
Damo Consulting releases annual survey of the state of digital transformation, points to access as the primary focus area for digital health and digital transformation. Virtual visits, automated communications for scheduling and reminders, and patient self-service tools are all high-focus areas.
Read more.
Damo Consulting offers branding solutions for technology firms looking to gain visibility and access to healthcare executives and CXOs.